The Foreigners' Perspective
The book 'The American Way of Life. The Foreigners' Perspective is an invaluable resource:
✓

Guidebook for travelers, expats and immigrants giving much-needed insight into formal and informal facets of daily life in America.

✓

On-boarding material for companies aiming to foster global talent's engagement and promote diversity and inclusion.

✓

Reference book for ESL teachers, intercultural consultants and trainers.

✓

Icebreaker for light-hearted discussions about cultural differences and unconscious bias.

✓

Source book for U.S. readers desiring to better understand how their customs may be perceived by newcomers to the country.
As the idiosyncrasies of everyday American life are revealed via the perceptions and experiences of foreigners, much will resonate with anyone who has ever puzzled over the intricacies of operating a garbage disposal unit for the first time or contemplated the difference between a queen or a king-sized bed.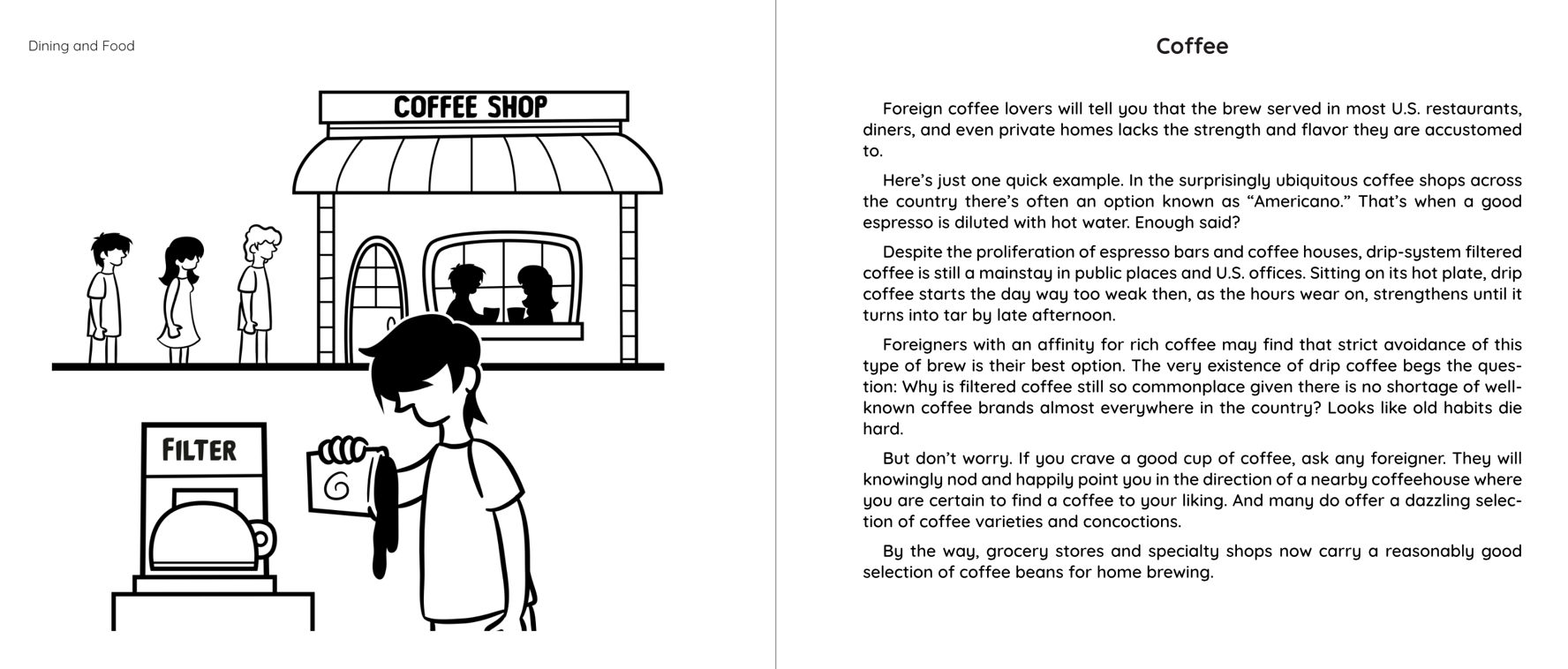 Packed with thought-provoking information, 'The American Way of Life. The Foreigners' Perspective' is much more than simply another eye-catching coffee-table book.
An ABC (literally and metaphorically) of everyday life in America, a compendium of insights and instructions, a fascinating blend of the philosophical and the practical – this is a book that covers everything from coffee (and we all know how crucial that can be, especially those of us who rely on that first vital cup in the morning) to cloverleaf ramps, those objects of terror for many new arrivals, whether as drivers or passengers.
The book helps newcomers realize that they are not alone in finding some customs surprising, funny and sometimes downright weird. At the same time, it gives U.S. readers a better understanding about how their customs and standards can be perceived by non-Americans, perhaps even inspiring them to take a fresh look at their own cultural filter.
Before moving to a foreign country who would ever imagined that differences in doorknobs, window styles or refrigerators could be sources of surprise and even irritation?
The book's main topics are: 
◆

Dining and Food

◆

Home Sweet Home

◆

On the Road Again

◆

Way of Life
'The American Way of Life. The Foreigners' Perspective' is the perfect gift for international clients, team members, expats, immigrants, visitors and foreign friends. Furthermore, it is a treasure trove for country natives and anyone interested in learning more about the profound impact culture has on common aspects of daily life.
Testimonials
The author is able to shed light in a very clever, amusing and yet informative way, the challenges foreigners face when coming to America for the first time. This is a must read whether you're a foreign exchange student, vacationer visiting for the first time, an expat relocating or an American wanting to understand how others view us and our customs. It's an easy and fun way to see how the rest of the world views America.        P.Z.  San Diego
"Savoir vivre ensemble" in a multicultural context has been the author's focus for many years. Her new book, brilliantly thought and meticulously built, is tackling this complex subject with accuracy and humor, in a smart and playful way. Full of delightful details and helpful analysis, Claude Koehl's great storytelling resonates with my own experiences, and reminds me that diversity is such a wonderful source of inspiration. The book is a gem.        B.F. Paris
Just got the book and I am thoroughly enjoying it. The author has done a great job with the humor and the alien touch. It is so interesting, insightful, and creative. I just can't put it down. Love the subtle humor found on every page!        C.J. Big Bear
Americans frequently write about cultural eccentricities in other countries. The author turns the tables, using humor to spotlight U.S. quirks, often weaving in practical advice on how newcomers can navigate them. This is a sweet read—and a great gift for anyone headed to the United States.        M.D.  Washington